Featured Restaurants
The Rusty Barrell Supper Club was opened for business in October 1974. The restaurant seated only 24, and patrons cooked their own steaks. Upstairs was a bar area with a small dance floor. Bill and Judy Coddington have proudly owned and operated the Rusty Barrell Supper Club since June 1976. During this time, people from more than 65 foreign countries and all 50 states have dined with us.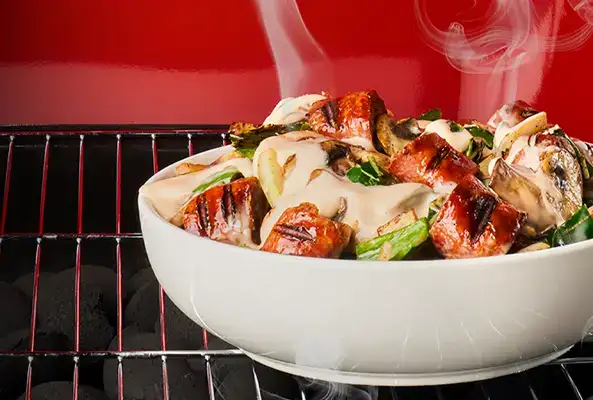 Genghis Grill-The Mongolian Stir Fry is a build your own bowl,fast casual,asian stir-fry concept.The atmosphere is colorful,lively,and a lot of fun! It's actually not a cuisine, but an INTERACTIVE style of exhibition cooking modeled after a centuries-old legend.According to this legend, 12th century Mongol warriors, led by the mighty warrior,GENGHIS KHAN heated their shields over open fires to grill food in the fields of battle!
At Fuji Sushi Bar you can experience Edo-mai style Sushi at the oldest Japanese bar in Tulsa. Our owner, Nobu-san Terauchi, has been delivering the most traditional and exciting offerings at our 71st & Memorial location for almost thirty years. Chef Nobu has owned a Japanese Ramen shop in Japan, and trained as a sushi and hibachi chef in Denver, CO after coming to America in 1977. We invite you to come and experience the best of what Chef Nobu has to offer after three decades of perfecting his art, and creating a bright and energetic bar where life-long friends are made. Let our chefs serve you, and transform your palette with the best of what traditional Japanese sushi has to offer; Bluefin Tuna from the Mediterranean, Toro, Tazmanian Trout, Uni from the coast of California, and so much more.
For the best food, drink, and atmosphere, don't pass that Station Grill for a fill-up! Modeled after 1940's service station, the Station Grill has been locally owned and operated since 1972. The Station Grill is your one of a kind place for good food & fun.
Roosters Steak & Chop House is synonymous with great food. Our extensive menu selections are prepared with only the freshest ingredients. Our meals are tasty, well presented and reasonably priced. We want the quality of our food, our friendly service and reasonable prices to keep you coming back for more!