Featured Restaurants
The Thomas House Restaurant's menu continues to draw repeat customers and rave reviews. It is a unique blend of Executive Chef Dolan's style and experience in simple fine dining. The menu changes regularly, with Dolan tweaking it here and there to reflect the best of what the seasons offer. When Jesse Dolan was a boy helping out in his grandmother's kitchen in Appleton, WI, little did he know the impact it would have on his future. It was there that he developed his talent for mixing flavors into tasteful original dishes, experiences that shaped Jesse into the passionate chef he is today. Jesse clearly states that his style of cooking is simple fine dining. He likes to only use fresh product and make everything from scratch. Jesse went to culinary school in Appleton, WI at Fox Valley Technical College, where he earned an associate's degree in Culinary Arts. Dolan, 29, spent the last few years perfecting his culinary philosophy in the kitchen of 501 Martini Lounge and Restaurant, Marshfield, WI and at the Waterfront Restaurant Chef de Cuisine, Sister Bay, WI. His previous experiences allowed him creative freedom in an atmosphere that encouraged the sharing of ideas and techniques. Experience a taste of Executive Chef Jesse Dolan's simple fine dining at The Thomas House Restaurant.
Laci's Tapas Bar is the only Tapas Bar in Syracuse! Our motto is "Eat Small, Live Large" and our food shows it all. You can make a reservation on line, look at our history, as well as the owners to include their entire team and then walk in the door to be welcomed like you were a long lost pal of each person you meet! Each night they feature drink specials and dinner specials and more hospitality in Syracuse then any where else you eat. Come join us for a few tapas to savor tastes from all across the globe.
Half Moon is the newest addition to the Fort Pond Bay Company family, serving casual yet sophisticated American cuisine. Located in Dobbs Ferry, NY on the Hudson River waterfront, Half Moon has become a Westchester favorite for enjoying steaks, raw bar, and fresh Montauk seafood with a view, sipping a specialty cocktail at our outside bar, or even attending a special private event.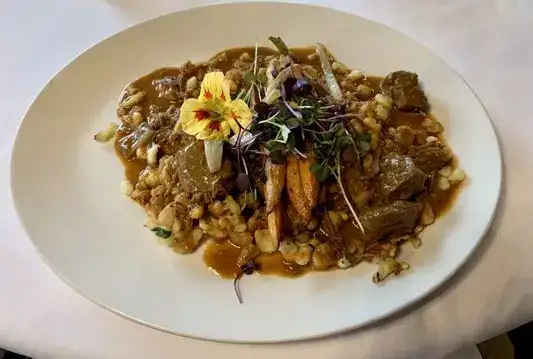 Like the timeless beauty and charm of the lake itself, the venerable Walloon Lake Inn has for almost 100 years endured as a tradition in dining and lodging. It has been proclaimed one of Northern Michigan's finest restaurants in publications and by residents alike.
Finished in 1848 by John Fowler, Drover's Inn required three years of skilled craftsmanship to build its three floors and sixteen original rooms. Around 1850, Mr. Fowler opened up the inn to travelers and drovers who were moving their goods along the toll pike. At Drover's Inn they could expect to receive food for themselves, green pasture for their accompanying livestock, and a bed to rest upon. The inn served this purpose for many years. It was purchased by Mary Marko in 1965 and the restoration of the aging brick and wood structure began. The inn was then converted into a restaurant in 1967 and was purchased and reinvigorated by its current operator and owner, Mark Cooper, in 1986.